Driver of the Month/Year Awards
Driver Recognition Program
The purpose of the Driver of the Month Awards is to recognize the men and women that our industry is built upon.  This program is intended to identify and honor drivers who have displayed a high degree of excellence and an impeccable driving record during their driving career. The process begins with a CTA member company nominating a driver.
2019 Northern Driver of the Year 
Joe Guzman, Oak Harbor Freight Lines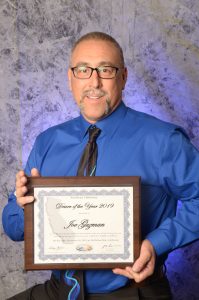 2019 Southern Driver of the Year 
Tony Henriquez, Dependable Highway Express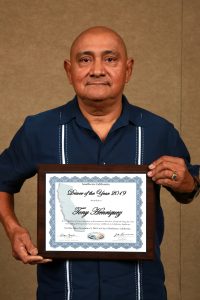 Every year California Trucking Association awards California's best truck drivers with the distinguished honor of being named Drivers of the Month for the current year. A selection committee comprised of members of the California Highway Patrol, California Department of Motor Vehicles, Federal Motor Carriers Safety Administration, and independent safety professionals selects the award winners from a pool of nominations submitted by CTA member companies. From those nominations, the committee chooses those who best represent the trucking industry in an exemplary manner over the duration of their professional driving career.
The program culminates each November with a banquet in the North and one in the South where each recipient is awarded a plaque and recognized for their outstanding service. The night is also filled with great excitement and anticipation as the Driver of the Year honor is revealed for the first time and bestowed upon the unknowing recipient.
Contact Silla Flores in the Events Department at (916) 373-3515 or sflores@caltrux.org for more information on the program and sponsorship opportunities.