Ron Faulkner, FTL Transportation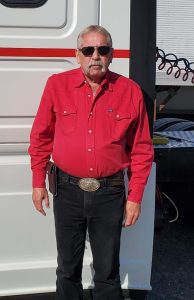 "TRUCK DRIVING IS IN MY BLOOD," SAID RON FAULKNER,
president of Faulkner Trucking and CTA's president for 2022. His father and uncle were drivers, and he followed in their footsteps after his father taught him to drive a truck. He took his first trucking job in 1972, driving a bobtail truck for a small produce company.
Over the next 16 years, he spent his time driving trucks throughout the 48 states and Canada. Then he went into business for himself." It was just something that I wanted to do. I bought my first truck in February 1988 and I went to work for KKW Trucking in Pomona, sub-hauling for them," he recalled. He grew the business over the years, and at one point owned up to 80 trucks in his two businesses, Faulkner Trucking and KLX Trucking.
Faulkner said he got into trucking because it was a lot of fun in the early days. It's less enjoyable now, however, because of all the regulations, especially in California. That's one of the reasons why he sold his businesses in May 2021 and started a smaller company FTL Transportation right after that. He joined CTA in 2006 in part because of all those regulations.
"I was just trying to learn more about what's going on. With CTA, you may be able to get something stopped, and even if you can't get it stopped you can at least get your two cents in," he said.
Since that time, Faulkner has been involved with many CTA committees, including the Highway Policy, Kingpin, and Environmental Committees. He's also been the chair of the association's Central Valley unit. Through this time, he's been active politically, participating in many of the association's visits to lawmakers at the state capital. Faulkner understands the power in numbers when it comes to getting CTA's message out to politicians. That's why increasing membership is one of his main goals for his year as the association's president.
"We have to have to have the voices to get things done. We need to be the 800-pound gorilla in the room again, but right now we're not," he added. He gets frustrated when people from companies that are not active in CTA complain because certain rules or regulations got passed. "Since they don't go to meetings, they don't understand why we've stood behind some propositions. They don't understand that sometimes you have to pick the lesser of two evils," he added. It's important that non-members understand this, because CTA needs their assistance. "We can't do this without the support of everyone in the trucking industry," he said.
One recent example is the passage of SB1, which created a fuel tax for road improvement. "People don't understand why CTA supported that, but it was either that or a vehicles miles traveled fee or increased registration fees. They were going to do something to get more money, and SB1 was one of the best options. Faulkner explained. He'd also like CTA to do more to explain the trucking industry's position to the general public to educate them about what's going on in the
trucking industry and what is hurting it Although running a trucking company takes a lot of time,
Faulkner does have some help from the next generation, which also seems to have gotten the trucking DNA. Faulkner and his wife Sally have three children; his oldest, Jason, lives in Phoenix and owns his own truck, and his younger son, Donald works with him in the business. Daughter Sheila, who also lives in Arizona, has worked as a college enrollment counselor.
In his free time, Faulkner enjoys playing poker and attending NASCAR races. He also likes music; while he was in high school, he was a drummer in a rock band that played classic rock and country music. He's also been very active for more than 25 years with the FFA and 4H, assisting with their livestock auctions at the local fair.