Greg Dubuque, Liberty Linehaul West, Inc.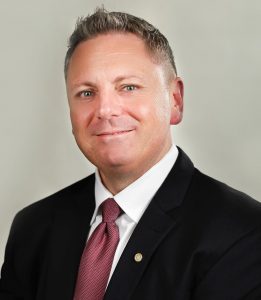 IF THERE IS ANYONE EXCITED FOR 2021, AND WHAT IT WILL BRING, IT'S ME. Thanks to our CTA Board of Directors, I've been given the opportunity to serve a second term as your CTA president. With the vaccine upon us, the elections (almost) complete and most segments of our industry now at maximum capacity, I'm eager to make up some lost miles next year.
Meeting with you, our members who make trucking here in California happen, is a top priority. I'm looking forward to being with drivers at TDC and DOM events and connecting with our awesome group of active safety professionals at Fleet Safety banquets and councils. The thought of being able to get to our unit events throughout the state puts a smile on my face.
Moving into this unprecedented second term, we will continue the theme "Bridging the Gap." Getting connected and staying informed is more important than ever as we continue to shape the future of trucking and what it's going look like in years to come.
CTA will continue our legislative focus moving into 2021. Telling our story, meeting with our legislators and making our voices heard is critical. With changes in both our state Assembly and Senate, including members of the transportation committee, it's crucial to connect and stay connected with our legislators so trucking issues are considered in every vote they make.
I look forward to helping our CTA team with the many labor, environmental and safety initiatives they have been working on.
On a federal level, we'll maintain our strong relationship with ATA and assist any way needed.
With the launch of our for-profit entities, I'll be urging our members to look at the value of TSC compliance solutions, our registration service and Trucking Proud Insurance. The success of our TPI entities provides our associations sustainability for the future.
And speaking of the future, our NextGen program is the best way to seek input from our future leaders. We need to focus on what we're doing now, and also what tomorrow will bring, and I'm excited to work with our next generation of trucking leaders.
2020 was an experience, and I made lots of memories and have stories to tell for a lifetime; however, I do compare it to driving a big rig in New York City… the challenge was rewarding, but the best part was looking at it in the rear-view mirror while driving away.
I'm looking forward to serving as your 2021 president!