AB 5 Frequently Asked Questions (FAQ)
Your resource page for AB5 information. Find updates on the California Trucking Association (CTA) AB5 lawsuit, and information on how the law impacts trucking.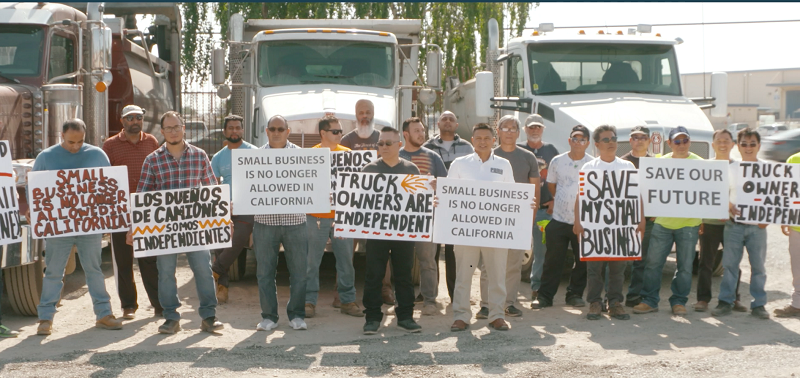 AB 5/Dynamex Lawsuit Update 
June 30, 2022
California Trucking Association Responds to
U.S. Supreme Court's decisIon to Deny Cert on CTA v. Bonta
(SACRAMENTO) —  The California Trucking Association (CTA), issued the following statement today in response to the U.S. Supreme Court's decision at its recent conference to deny cert in CTA v. Bonta, the Association's case challenging California's Assembly Bill 5 (AB 5) law:
"Gasoline has been poured on the fire that is our ongoing supply chain crisis."
"In addition to the direct impact on California's 70,000 owner-operators who have seven days to cease long-standing independent businesses, the impact of taking tens of thousands of truck drivers off the road will have devastating repercussions on an already fragile supply chain, increasing costs and worsening runaway inflation.
"We are disappointed the Court does not recognize the irrevocable damage eliminating independent truckers will have on interstate commerce and communities across the state. The Legislature and Newsom Administration must immediately take action to avoid worsening the supply chain crisis and inflation."
What is Assembly Bill 5?
California recently adopted Assembly Bill 5 (AB 5), authored by Asm. Lorena Gonzalez (D-San Diego).
AB 5 places into law an independent contractor test known as the "ABC" test. In order to be considered an independent contractor, a worker must satisfy all 3 parts of the test:
A. The person is free from the control and direction of the hiring entity, both in contract and in fact.
B. The person performs work that is outside the usual course of the hiring entity's business.
C. The person is customarily engaged in an independently established trade, occupation, or business of the same nature as the work performed.
Certain independent contractors, such as insurance agents, physicians, attorneys, accountants, engineers, and direct sellers were placed under a different test. With few exceptions, the relationship between independent truckers and their carriers, brokers and shippers will be governed by the "ABC" test.
How will this impact owner-operators?
Carriers, brokers and even shippers will have to demonstrate that their business arrangements satisfy all 3 parts of the "ABC" test.
I own my own truck and have my own operating authority. I am not leased to a carrier. Does that satisfy the law?
The law does not differentiate leased owner-operators from those who operate under their own authority. All hiring entities will need to satisfy the "ABC" test.
I am not a California resident and/or I work for an out-of-state carrier. Does this law apply to me?
If you are a California resident performing work within California, AB 5 applies to you. Applicability of California labor law to other work situations is not currently a settled matter of law.
I am in construction trucking. Can I still work as an owner-operator?
Yes, but only under the following circumstances until January 2022.
The "ABC" test shall not apply to a subcontractor providing construction trucking services for which a contractor's license is not required if all the following are satisfied:
The subcontractor is a business entity formed as a sole proprietorship, partnership, limited liability company, limited liability partnership, or corporation.
For work performed after January 1, 2020, the subcontractor is registered with the Department of Industrial Relations as a public works contractor, regardless of whether the subcontract involves public work.
All construction trucking services must be performed by employees, unless the subcontractor is a sole proprietor who operates their own truck to perform the entire subcontract and holds a valid Motor Carrier Permit.
The subcontractor negotiates and contracts with, and is compensated directly by, the licensed contractor.
Video: What you need to know about Assembly Bill 5
Disclaimer: This information cannot and does not contain legal advice. This information is provided for educational purposes only, and is not a substitute for legal advice. Laws, regulations, and best practices change, and the observations drawn on this document may not apply to laws, regulations, or best practices as they may be in the future. Accordingly, before taking any actions based upon such information, we encourage you to consult with the appropriate legal professionals or licensed attorneys. We do not provide any kind of legal advice. The use or reliance of any information contained on this document is solely at your own risk.