A Program Created for Young Professional CTA Members
New professionals in trucking are the future of CTA and the industry. Therefore, the program was created to serve these members. Any NextGen employee at a CTA member company can participate in the program.
Attend the June NextGen event in Southern CA!
Wednesday, June 23, 2021
Details coming soon!
---
The NextGen Program provides opportunities for CTA members to grow professionally, build relationships with peers and develop leadership skills.
If you are a CTA member and want to receive information on NextGen events and news, contact us at (916) 373-3500 or membership@caltrux.org.
---
NextGen Leadership
Chair: Rachel Crusenberry, JSG Trucking
Vice Chair: Pete Amundson Jr., Minuteman Transport
Board Mentor: Dick Coyle, Devine Intermodal
Board Mentor: Evan Oneto, FedEx
CTA Staff: Membership Team, membership@caltrux.org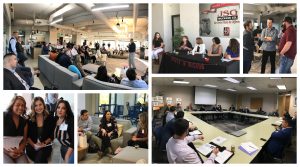 CTA NextGen Program FAQ
Posted May 5, 2020
By Heather Oneto
Find answers to the most frequently asked questions.
Women In the Spotlights
Posted April 9, 2020
By Nick Fortuna
NextGen program holds panel discussion on women in trucking.
Member Spotlight
Posted April 3, 2020
Rachel Crusenberry, JSG Trucking, CTA's 2020 NextGen Chair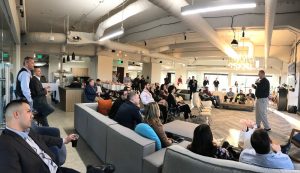 Waiting In The Wings
Posted March 26, 2020
By Nick Fortuna
CTA's NextGen Program aims to nurture industry's top young professionals.
What Members Are Saying About the NextGen Program
"By participating in the NextGen taskforce, I have gained a lot of confidence with speaking to people and engaging in new environments that I have not been a part of before this program. I was able to attend Trucking Day and learned a lot about how different laws really affect the trucking industry and how we as a program/community need to get out there and be the voice for the trucking industry."
- Kelsey Woodward, Safety Department/Driver Services, Chemical Transfer Co. Inc.
"The biggest insight the NextGen program has given me is knowing that the issues I face or the roadblocks that I encounter, are not only happening to me. It helps being able to talk to the others in the program when there is an obstacle to overcome. You are often presented with new ways to look at a situation because you have a team of like minded individuals around you that are experiencing similar struggles."
- Derek Crusenberry, Operations & Customer Relations, JSG Trucking Co.
"Politics determines a large part of what the future of trucking will look like. As NextGen members, we owe it to ourselves to become educated in this arena. Not only to help our own businesses flourish, but to learn how to have a voice in the process for the industry as a whole. If we want to survive (especially in California), we need to learn to speak up and become active. The NextGen Political Training is the tool kit to success, I would highly recommend it."
-Tara Amundson, Executive Admin of HR & AP, Minuteman Transport, Inc.
"The CTA is beneficial because it allows people who come from the same industry to join together to help solve and combat the issues that each one of our companies face day in and day out. Other young professionals should join because the CTA it is a resource for growth and education. In addition, the CTA acts as the 'political voice' for the California Trucking Industry. Policy enacts change, and as a trucking industry the only way we do that is with the help and guidance of the CTA and its staff."
- John Yandell III, Operations, Yandell Truckaway, Inc.
"CTA has provided me with exceptional personal and professional growth and helps me get out of my comfort zone. I'm able to take part in things I'd never imagined taking part in."
-Adam Gallagher, Director of Safety, Devine Intermodal
"CTA has every tool and resource that any young professional needs to become successful in this industry. I'm grateful I've been given this opportunity and will continue to bring back what I learn to my company. Thank you, CTA!"
- Becky Navarro, Safety & Compliance Manager, Chemical Transfer Co.
"I have gained a lot from my exposure to CTA, including networking contacts and industry training/knowledge. I have had the opportunity to get to know other CTA members with similar limited experience in the industry, and created contacts that will be very helpful as we all work to grow our own businesses. NextGen has also hosted trainings on legislature and leadership that were very helpful to me, undoubtedly with more to come. I am grateful for connections and experience provided by this program and look forward to continuing to see it grow!"
- Cole Scharton, Director of Finance, Ritchie Trucking Service
"Coming from the advocacy side of the trucking, I get a first hand opportunity to learn from people in operations and from other sectors of trucking. That really rounds out and fills my knowledge of trucking where I may not have it in my job alone."
- Evan Oneto, Senior Government Affairs Representative, FedEx