Annual Membership Conference Incentive Program
Omni La Costa Resort, Carlsbad | January 17-20, 2024
The California Trucking Association would like to offer you a special program to invite your clients or prospects to experience the 2024 Annual Membership Conference. This program is a great opportunity to give your clients an impactful and lasting gift this holiday season.
Invite a carrier company on your client or prospect list to attend the 2024 AMC as your guest.
You sponsor the carrier registration fee through CTA for your guest's attendance
CTA will reimburse 50% of your allied registration at the close of the conference ($449.50 value) as a way to thank you for bringing a non-participatory CTA member or non-member prospect to this event
This promotion can only be used to sponsor carrier industry professionals who are either non-members of CTA interested in joining, OR a new/current member of the CTA who has not attended a CTA Annual Membership Conference in the past 5 years (since 2019)
Carrier member guests must provide their DOT number and truck count upon registration
The registration fee covers attendance to the conference and included meals only- all parties are responsible for coordinating their hotel stay at the Omni La Costa Resort at the discounted group rate. Room reservations must be held with a deposit prior to December 26, 2023 to receive the discounted rate.
This offer cannot be combined with other promotions or discounts
Each allied member may invite as many guests as they wish, however the reimbursed discount on the allied registration fee can only be applied once per person.
Please save this digital invitation to send to your clients: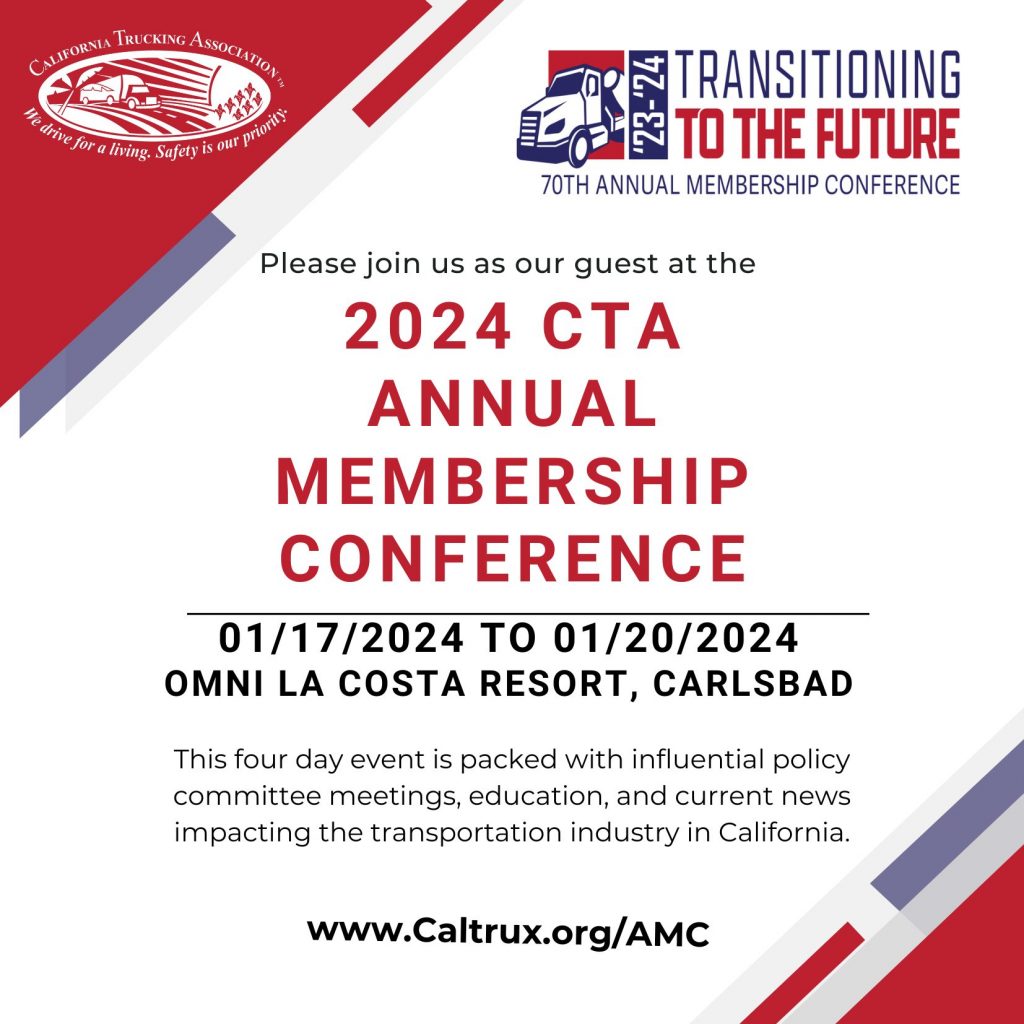 Please be sure to make your hotel reservations as soon as possible as rooms are limited. The group room rate expires Tuesday, December 26th at 5:00 p.m. The regular room rate is significantly more expensive than the room block coordinated by CTA.
To reserve your room online please visit this link: OMNI LA COSTA RESORT 
When reserving your room by phone at (760) 438-9111 you will need to mention CTA Annual Membership Conference 2024 and the dates of the program (January 17-20, 2024).