CTA's NextGen Program aims to nurture industry's top young professionals.
Posted March 26, 2020
By Nick Fortuna
This article was originally featured in the May/June 2019 Caltrux Magazine.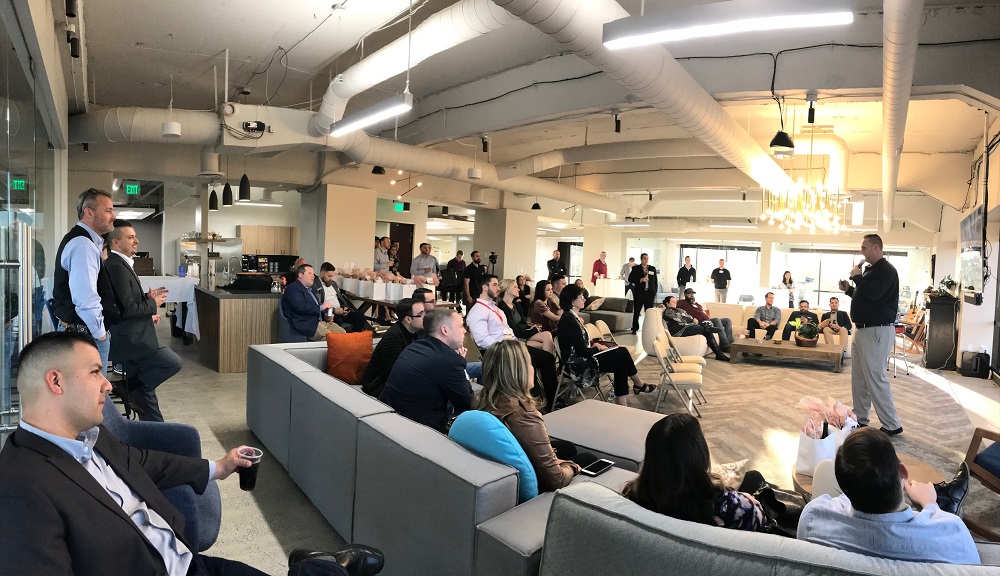 Wayne Partello, the Chief Marketing Officer for the San Diego Padres speaking to NextGen members at the 2019 launch event. 
By now, everyone in the industry knows that the average truck driver is getting up there in age, but let's face it, the average executive running a trucking company is no spring chicken either. For CTA and its member companies to thrive for decades to come, the next generation of industry leaders needs to start loosening up in the bullpen.
With an eye toward the future, CTA launched its NextGen Program at its annual membership conference in January 2019. The group is designed to provide mentorship, educational and networking opportunities for promising young employees at member companies. Geared toward professionals under the age of 40, NextGen will help them prepare for leadership roles in their companies and in CTA so that the association always remains on strong footing.
Advocating for the industry among lawmakers is job No. 1 for CTA, so NextGen participants are working to get up to speed on legislative issues. On Feb. 26, CTA held a legislative training day for NextGen members in Sacramento featuring a speech and question-and-answer session with Assemblywoman Autumn Burk(D-Marina del Rey).
Burke, who won a third term in 2018, chairs two Assembly committees that affect industry: the Revenue and Taxation Committee and the Career Technical Education and Building a 21st Century Workforce Select Committee. She spoke to NextGen members about best practices for engaging with legislators and building relationships with them. The session served as a valuable educational tool ahead of CTA's annual legislative advocacy day at the California State Capitol in April.
Among the 15 young professionals in attendance in February was Rachel Crusenberry, the billing manager for Acampo-based JSG Trucking Co., which is run by her father, CTA President Joseph M. Giammona. At 24, Crusenberry is one of the youngest members of NextGen.
"A lot of the people who own companies in the trucking industry are going to be ready to retire within the next five or 10 years, and a lot of the members of NextGen are going to be the ones taking over, so I think it's important that the current leaders teach us about the legislative side and how to network," she said. "I'm pretty new to CTA and the legislative part of the trucking industry, so I'm really excited to learn more about that."
Attendees also heard from Evan Oneto, a senior state and local government affairs representative for FedEx who monitors legislation affecting the industry in 11 western states. Oneto, a CTA board member, is serving as one of two mentors for the NextGen Program, along with board member and Past President Richard Coyle, president of Devine Intermodal.
Oneto said it's vital for CTA's younger members to engage in advocacy because the makeup of the California Senate and Assembly is becoming younger and more diverse.
Also in attendance were Kelsey Woodward, 23, and Becky Navarro, 30, who are part of the safety and compliance team at Stockton-based California Tank Lines Inc./Chemical Transfer Co. Inc. They said the training session was very informative and made them want to get more involved in advocating for the industry.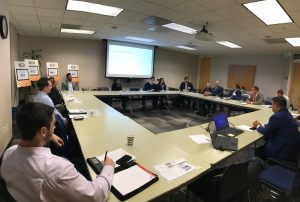 NextGen participants gets up to speed on legislative issues during the 2019 Legislative Training Day. 
"I think it opened our eyes to what's going on with issues in the trucking industry, and it was very helpful," Navarro said. "They taught us that anyone can go out and speak to their own legislators. I think before, I was scared to do that, but CTA has the resources to prepare you to do that."
"I didn't know too much about the whole legislative process, and I'm semi-new to the trucking industry, so I thought it was really cool to see how all of that works and to hear from an Assembly member and get her take on things and how we should approach legislators when we talk to them," Woodward said. "One of the main things they told us was just to be really honest about your story and what you and your company need help with in the trucking industry, because that goes a long way."
CTA formed its NextGen Taskforce last year, and that group of about a dozen members held its first meeting last October at Alto Systems Inc. in Pomona. Attendees toured the facility and brainstormed about how CTA can expand its programs and services for young professionals through NextGen. In addition to Alto Systems, the CTA member companies participating included California Tank Lines Inc./Chemical Transfer Co. Inc., Devine Intermodal, JSG Trucking Co., KKW Trucking Inc. and Minuteman Transport Inc.
NextGen taskforce members during the 2018 taskforce meeting at Alto Systems, Inc.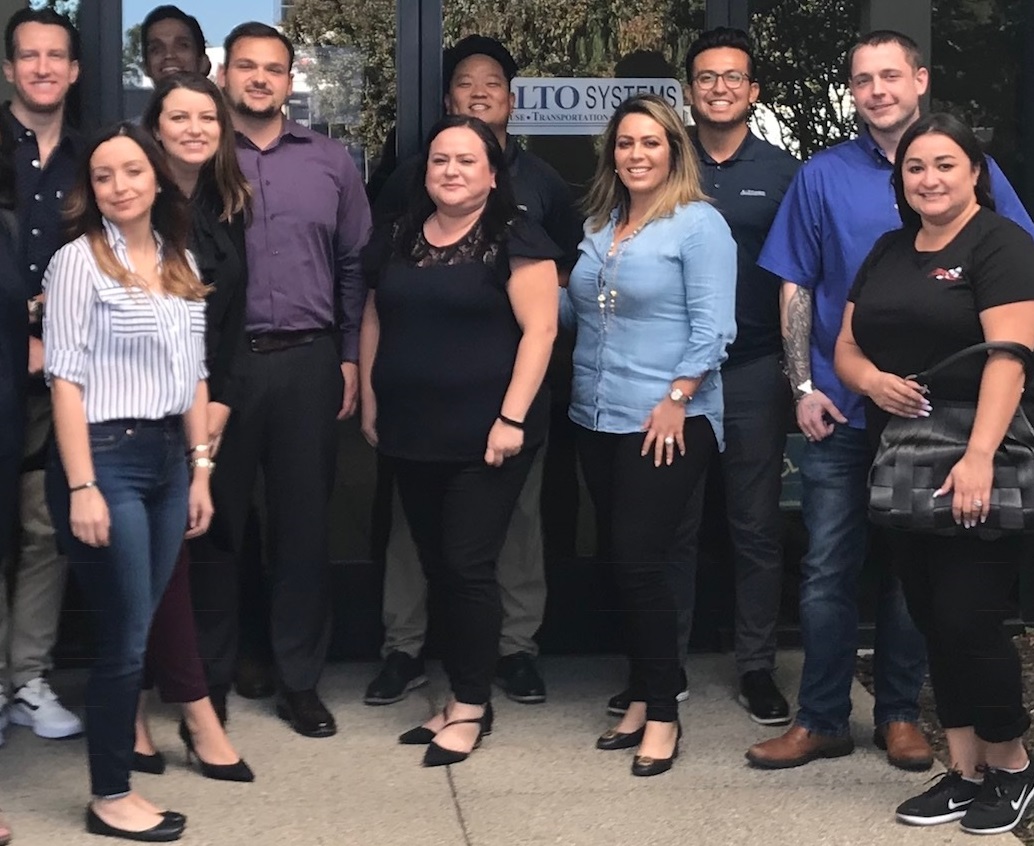 NextGen officially was launched January 25 at CTA's annual member conference. Attendees mingled during a happy hour, then listened to motivational speeches from Julian Tsukano, executive officer for the Marine Special Operations Command, and Wayne Partello, chief marketing officer for the San Diego Padres. Both shared their stories of becoming leaders in their fields through boldness, persistence and determination. C3 Risk & Insurance Services hosted the event at its San Diego office, and Midwestern Insurance Alliance and Energi Inc. sponsored it.
Natalie Garcia, 34, the business development manager for Alto Systems, said the event was a good opportunity for young professionals, some of whom are the children of top executives in the industry, to get to know each other. Garcia is the daughter of Alfred Garcia, a CTA past president and the chief executive of Alto Systems. She, Crusenberry, Navarro and Woodward are among the young professionals serving on the NextGen Taskforce.
"A lot of the business owners who are involved in CTA do have children in the industry, and one of the issues my dad is focused on right now is getting a succession plan together," Garcia said. "By getting involved with the taskforce, I'm able to get to know other young people in the business who are working their way up and dealing with similar issues, and we can talk about it, so I think it's really cool."
Garcia's brother, Christian, is part of the sixth class of the American Trucking Associations' LEAD ATA initiative, a one-year program created to prepare the industry's top young professionals for leadership positions. Young professionals are selected for LEAD ATA after an application process that involves writing an essay. As the NextGen Program grows, CTA hopes to develop a similar curriculum for NextGen members.
But for now, the association is focused on growing and promoting the NextGen Program, which is open to all young professionals at CTA member companies. NextGen currently has a mailing list of about 90 young professionals who have expressed interest in the program, said Heather Oneto, CTA's compliance coordinator, who created and manages the program.
She said NextGen will help to ensure the long-term health and effectiveness of CTA by getting more employees at member companies involved. Many member companies typically only have one or two people actively involved in CTA, and those people tend to be in their 50s or 60s, so once they retire or switch jobs, their member companies sometimes take a less active role in the association.
Heather Oneto said the NextGen Taskforce has been holding quarterly conference calls to determine what members would like to see in the program, how CTA can best reach out to young professionals and how it can aid in their career development.
"We're working right now to implement the things they want to see, which include in-person meetings with other NextGen members and a way to interact with each other through an online forum," she said. "A big part of what we do as an association is advocacy, and they feel that the legislative process can be intimidating, so they wanted to have legislative training as well."
Evan Oneto said one goal of NextGen is to identify ways for the industry to bring more young professionals into the fold and to diversify its workforce, including outreach to women in a traditionally male-dominated field. The program also aims to ensure that participants fully avail themselves of the many services and career development opportunities that CTA offers.
"We're looking to counsel our young professionals on the skills they need to be leaders at CTA and to discuss with them what CTA is, what it isn't and what it can do for you," he said. "It's a great networking opportunity that I think a lot of people in the trucking industry don't fully take advantage of. Our goal and our hope is that some of the people who come out of NextGen will become board members, presidents and chairmen for CTA."
For more information on the program, visit the NextGen Program page.